If you live in the Midwest, the arrival of Spring is signaled by more than just robins, crocuses, and longer, warmer days. Those extended hours of sunshine heat the air and generate towering thunderclouds that sweep across the open planes downing branches, swelling creeks, and, occasionally, generating devastating funnel clouds. Live here long enough, and you'll end up with more than one story of huddling in a cellar while tornado sirens go off in the streets. We Midwesterners have a funny relationship with these catastrophic storms; we pray they never come for our houses and communities, but we also feel a little bit of pride in the power of these uniquely American weather events.
When it comes to seasonal beer marketing, Spring is often left out in the cold. Autumn offers Oktoberfests and oft-derided pumpkin beers, and the coldest months bring us spiced winter warmers and other high gravity brews, but as soon as the snow melts, brewers seem to start pushing their summer offerings, as eager to shake off the snow and ice as the rest of us. If we're going to drink Spring seasonal beers, we have to do so thematically rather than stylistically. So if you're looking for some good Spring beers, how about grabbing one of these tornado-inspired brews the next time you head down to the storm cellar?
Fieldwork – Supercell DIPA
To get the strongest and most devastating tornados, you usually have to start out with a supercell, a towering cloud structure that develops from a complex array of atmospheric influences. Fieldwork might not see a lot of supercell thunderstorms and tornados at their Berkeley, California, brewery, but they certainly understand how complex variables coming together can create something powerful and rare. Their Supercell Double IPA sweeps down on the unsuspecting palate with layers of grapefruit, lemongrass, pine, citrus, and floral aroma and flavor. All of this is achieved with only one hop variety: Simcoe. The hop bill might be simple, but the result is as awe-inspiring as the storm this beer is named for. 
COOP Ale Works – F5 IPA
COOP Ale Works started in 2009 in Oklahoma City, a metropolis that is no stranger to the powerful spring storms that spawn tornadoes. They launched their F5 IPA shortly after their one year anniversary, and the very hoppy (100+ IBUs) West Coast-style IPA quickly became their flagship beer. The brewery claims this 6.8% beer was the first West Coast-style IPA brewed locally in the state of Oklahoma. It features classic grapefruit and pine notes from Columbus and Falconer's Flight hops, and the brewery calls this bottled storm "a belligerent hop reckoning." In May, COOP released Saturday Siren Summer Dry-hopped Pils, a new seasonal that references the weekly tornado siren tests conducted on Saturdays in Oklahoma City.
Charleville Vineyard & Microbrewery – Tornado Alley Amber Ale
Charleville's beautiful Missouri property is about an hour south of St. Louis at the edge of Mark Twain National Forest. The vineyard and brewery has a bed and breakfast on site, and invites visitors to bring a picnic lunch to enjoy on the grounds. This idyllic and usually peaceful setting however is right in the center of Tornado Alley, the swath of the heartland most likely to be hit by Mother Nature's furious twisters, and the region has leant its nickname to one of Charleville's most popular beers, Tornado Alley Amber Ale. This medium-bodied, moderately hopped beer has been featured at the St. Louis Science Center Omnimax theater during showings of the documentary Tornado Alley, and the brewery has donated some of the proceeds from sales of the beer to survivors of the Perryville and Joplin tornadoes.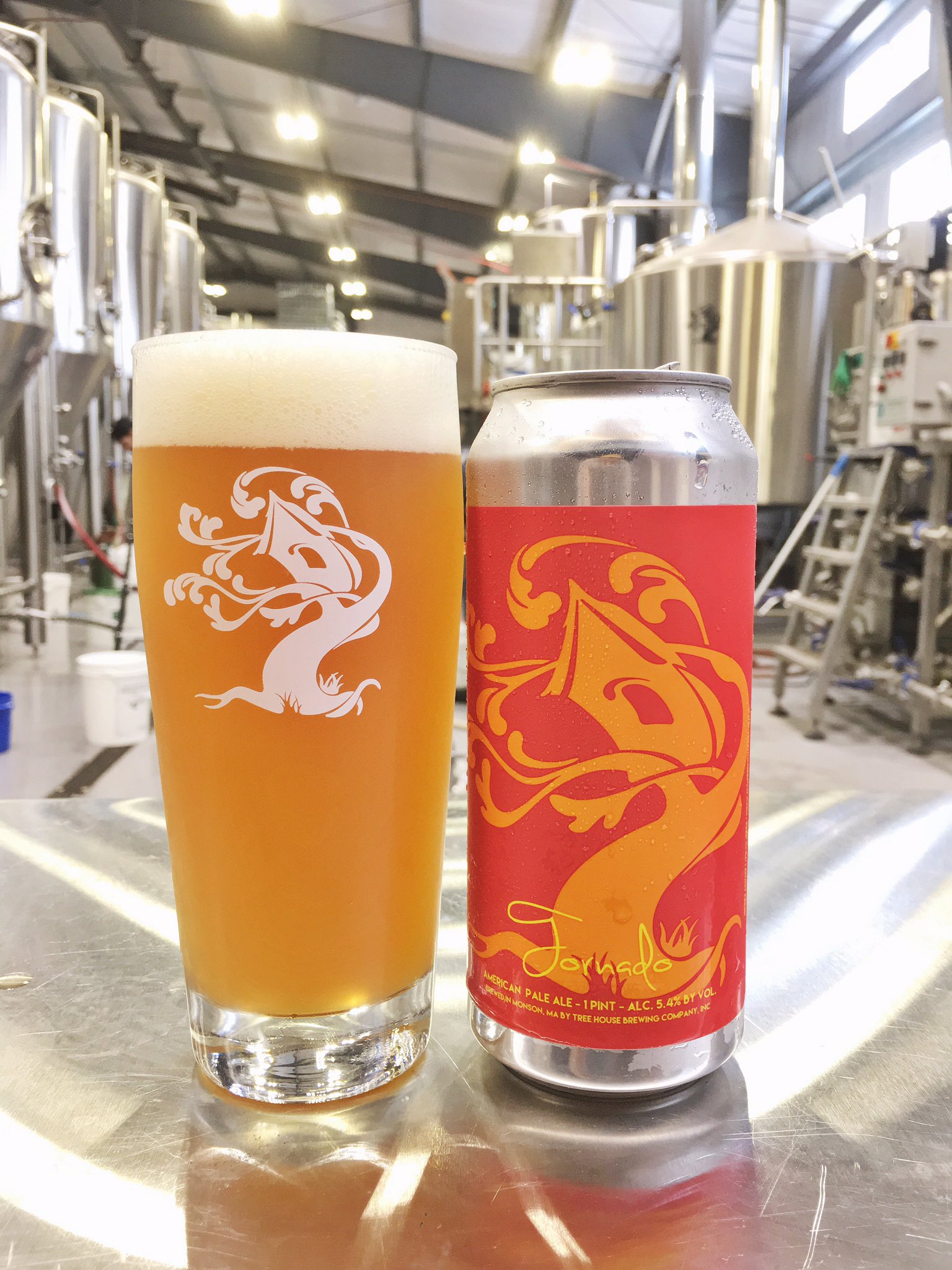 Treehouse Brewing – Tornado
Treehouse created Tornado in response to the EF3 monster that did considerable damage to their town of Brimfield, Massachusetts on June 1, 2011. The tornado passed within a half mile of the brewery, and the team decided to commemorate the event with a beer that's considerably more sunny than that late Spring day was. An "extremely liberally hopped American Pale Ale," Tornado shines those classic American hop notes of citrus, pine, and tropical fruits, and sits at a drinkable 5.6%. Drink this refresher to think about sunnier days ahead once the storms have passed.